Indian passport holders can now travel to 57 countries, including Oman and Qatar, without a visa. These destinations offer either visa-free entry or visa-on-arrival for Indians.
According to the recently released Henley Passport Index 2023, the Indian passport now ranks 80, providing hassle-free access to 57 countries.
Strongest passport in the world

he index reveals that the top-ranked passport or strongest passport in the world belongs to Singapore as its holders enjoy the highest global access. Singaporean passport holders can travel to 192 countries with visa-free or visa-on-arrival options.
Germany secures the second position on the list, with its passport holders having visa-free or visa-on-arrival options for 190 countries. The country is sharing the second rank with Italy and Spain.
The United States of America ranks eighth on the list.
Below is the list of top 22 strongest passports in the world:
Singapore
Germany, Italy and Spain,
Austria, Finland, France, Japan, Luxembourg, South Korea and Sweden
Denmark, Ireland, Netherlands, and United Kingdom
Belgium, Czech Republic, Malta, New Zealand, Norway, Portugal, and Switzerland
Visa-free travel for Indian passport holders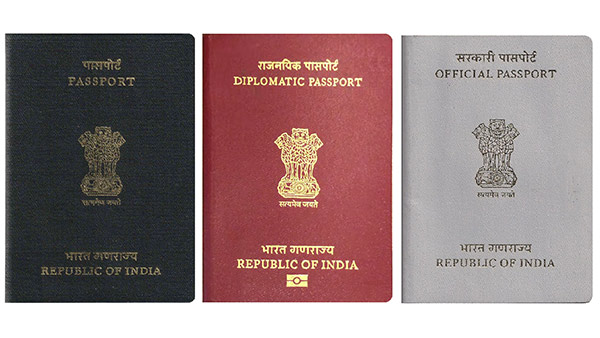 Below is the comprehensive list of countries where Indian passport holders can visit by availing of visa-free or visa-on-arrival options.
Albania
Barbados
Bhutan
Bolivia
British Virgin Islands
Burundi
Cambodia
Cape Verde Islands
Comoro Islands
Cook Islands
Dominica
El Salvador
Fiji
Gabon
Grenada
Guinea-Bissau
Haiti
Indonesia
Iran
Jamaica
Jordan
Kazakhstan
Laos
Macao (SAR China)
Madagascar
Maldives
Marshall Islands
Mauritania
Mauritius
Micronesia
Montserrat
Mozambique
Myanmar
Nepal
Niue
Oman
Palau Islands
Qatar
Rwanda
Samoa
Senegal
Seychelles
Sierra Leone
Somalia
Sri Lanka
St. Kitts and Nevis
St. Lucia
St. Vincent
Tanzania
Thailand
Timor-Leste
Togo
Trinidad and Tobago
Tunisia
Tuvalu
Vanuatu
Zimbabwe